Online Giving
You can give securely online by clicking the "Give Online" button below. This is a convenient way to give.
Automated Giving
At Fellowship Baptist Church, we're so grateful for the generosity of so many people who financially support the mission and vision of the church.
We encourage the concept of "making the important automatic" in the area of giving. It's important to make saving money automatic, by having the bank automatically transfer funds from checking to savings each week. In the area of giving, this is also a great idea. So, in addition to saving automatically, we also give a certain amount to the church automatically. Others in the church do the same thing.
You can use your own banks bill pay option and make Fellowship Baptist Church a payee. This is how I personally do it. Most banks do not charge for this service. Each week the church receives our contribution, in the form of a check.
Online giving is a great way to be intentional about honoring God and being generous. Many of you give when we pass the offering plates and that's great – you keep doing that. But I want to challenge you (if you are comfortable with the idea) to automate it–because it's important.
Text Giving
You are now able to give by sending a text message with an amount to (540) 685-1182. Simply text the amount you'd like to give to this number. First time givers will be prompted to provide their payment method via a secure web page. After that, giving is as simple as sending a text.
The following are a list of commands that the text giving system accepts:
$50
Donates $50 to Fellowship Baptist Church. You can type any amount; the dollar sign is optional (e.g. $50 and 50 both work).
give $50
Same as above.
give
Your online giving number will respond asking how much you'd like to give.
$50 mission
Donates $50 to the missions fund.
$50 weekly
Sets up a recurring gift of $50 each week. Frequency options are 'weekly', 'biweekly', 'monthly', and 'yearly'.
$50 missions weekly
Sets up a recurring gift of $50 each week to the missions fund. Frequency options are 'weekly', 'biweekly', 'monthly', and 'yearly'.
refund
Refunds the previously given contribution.
update
Allows you to update your payment method or recurring gift. Your text giving number will respond with a link where you can make these changes.
unlink
Unlinks your phone from the text to give system.
commands
Provides you with a list of the available text commands.
Traditional Giving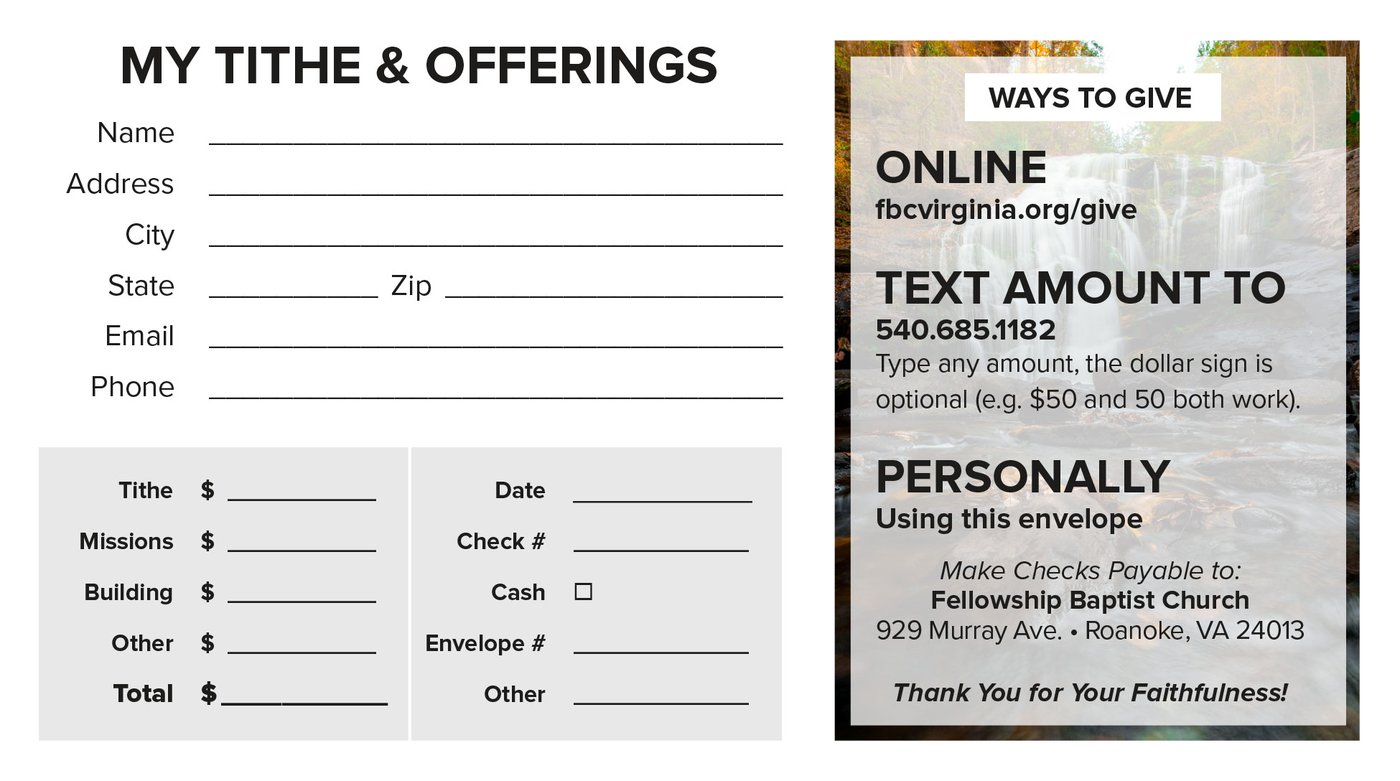 We have a special time for the offering in each service, it begins with prayer. The ushers pass the offering plates throughout the congregation. You may give at this time. Offering envelopes are available. Contribution statements are mail quarterly and the end-of-year statements are mailed in early January.